Surety IT provides a monthly security alert of the scams impacting Australian businesses including phishing scams, malware attacks and security breaches/bugs.
Most scams aim to harvest credentials, however there are many common red flags to look out for which include:
Recipient not being directly addressed
Sender domains don't belong to the sites they claim to be from
Branding not displayed correctly
Spelling Errors
Spacing and formatting errors
Domains aren't familiar or not legitimate
Poor English used
Omit personal details that a legitimate sender would include
Sent from businesses that you were not expecting to hear from
Stray PHP tag ("?>") at the bottom of the email.
You need to be particularly aware of:
Netflix Spoofed
Once again Netflix has been spoofed, this email informs users that the 'last invoice statement for march 2021 was paid twice'
A link is provided to request a refund within 12 hours.
Originates from a third-party that is potentially compromised
Those who click on the link are taken to a compromised site hosted by BigCommerce which redirects to a login page.
Once users log in, credentials are harvested and taken to another page requesting credit card details and once input are led to a Netflix branded page asking for a one-time code that has been sent to their phone.
Red flags include: blank subject, inaccurately spelt display name & the recipient isn't addressed directly.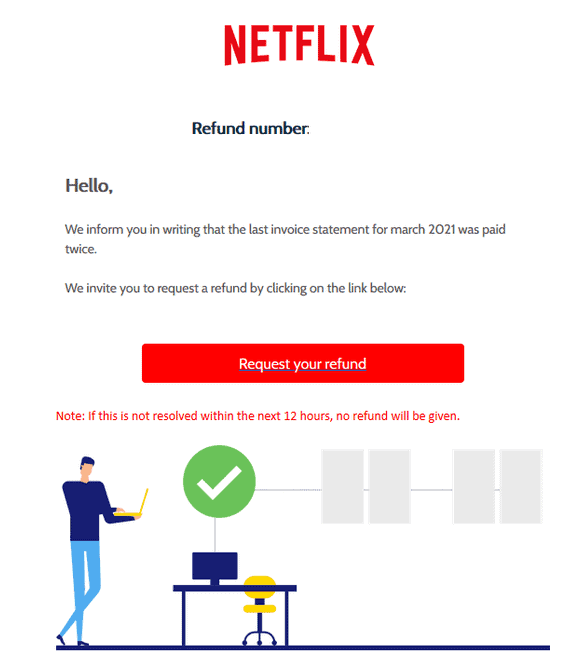 ---
Aramex Impersonated
Using a display name of 'Aramex', this latest phishing scam addresses recipients directly and claims that their package is ready to be shipped.
Recipients are directed to click on a link to provide some missing information.
Originates from a server hosted by Digital Ocean and a recently purchased domain from Namecheap.
Those who click on the link are led to a Google Firebase link which redirects to a secondary page designed to look like Aramex where missing information and 'pay fee' is requested.
Details requested include, email address password, address and multiple different credit card details as the first advises that the card has been declined.
Red flags include several spacing & formatting errors, domain not belonging to Aramex.
---
Wix Impersonated
Malicious email uses a display name of 'support' and titled 'Important Alert From Wix'.
Recipients are advised that their payment was processed for a fourth time but 'failed once again'
A link is provided for recipients to update payment information or risk the account being cancelled.
Several phishing pages are used should a recipient click the link whereby they are asked to provide login details, credit card details, billing address & email username and password.
Once inputted, the credentials are harvest for later use and users are redirected to the actual Wix website.
Red flags include: sender email provided in 'from' field doesn't belong to Wix and domain used to log into the Wix website doesn't belong to Wix.